I love Christmas. This year, it was so much fun. My three older kids were all super into it. I record most of our festivities in our Christmas Book (shout out, Ingrid, haha), but basically, this year, we did our same traditions we always do.
One difference, though. I decided to take fewer pictures. Lately, I have been thinking about how I spend so much time documenting events that I don't actually absorb and enjoy them. It happened accidentally, at first. We headed to Brett's parents to celebrate with both sides of his family. I left my camera on the kitchen counter. I was upset, until I realized that the pictures never turn out that great anyway. No one is looking at the camera, people walk through the pictures, or it is a forced smile (taking my kids away from enjoying the moment). Instead of photographing the parties, I simply enjoyed them. I liked the change, but in the future, I will snap a few pictures, at least. But I realized that I only need to take a few pictures, then put the camera down and enjoy.
So for our own family Christmas, I did just that. Instead of taking the usual 100 or so pictures (clearly I have a problem, but technically, that is like 16 pictures per person in my family, so it isn't THAT much, haha), I took enough to capture the day. But not so many that I forgot to be in the moment.
Anyway, without further ado.....Christmas 2012!!!
Christmas Eve: the jammie elf paid a visit and brought new jammies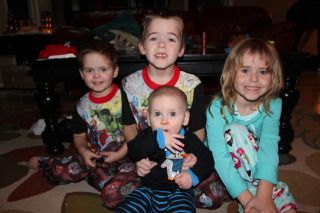 Christmas morning (Luke is always out of it, as he is not a morning person at all):
(Levi was still asleep for the first part, so he is not in pictures but I was able to enjoy some time before feeding him)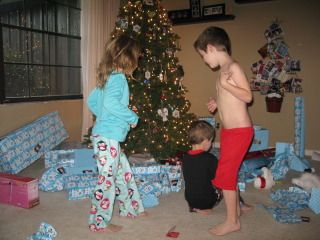 Brett's parents joined our celebration
Chloe asked for this picture :)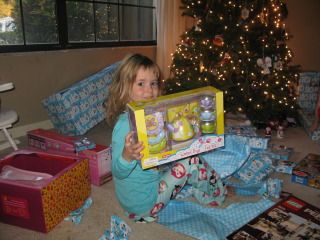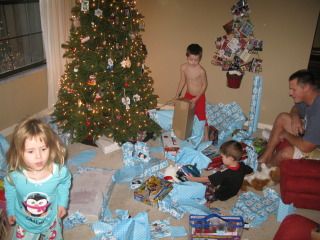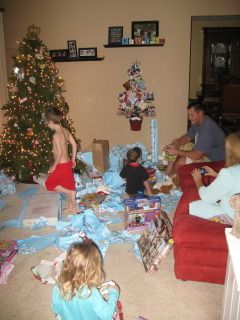 Levi woke up!!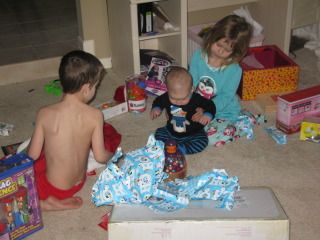 The family gift:
This was sweet. Two days before Christmas, Chloe asked for matching clothes for her and her doll. The jammie elf had already bought matching pj's (you can't see but the pajama bottoms match the doll).
Chloe took this self-portrait :)
Happy birthday, Jesus!!