In my house, I have pictures hanging of each of my children. Actually, they are the pictures on the top of my blog. I had each of them made into a canvas (from
artscow.com
, which is very inexpensive...It makes me a little nervous why it is so cheap....the quality is good, but I wonder if it is underpaid workers or something??).
I know this is silly, but until kids can sit up, I just do not think photos are that display-worthy. Which is why I have like 1 picture of Levi displayed. I think he is SUPER adorable, but that cuteness does not seem to transfer super well to photos.
BUT, on Christmas Day, the sweet boy sat up on his own!! He is also already rocking on his hands and knees to possibly crawl soon (yikes!).
So I was finally able to get a picture of him to add to our display!! I am VERY excited to decorate the house with his cuteness now :).
Here are some of the shots: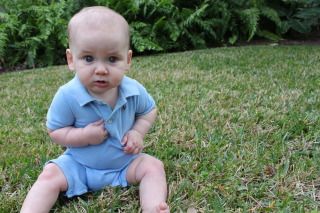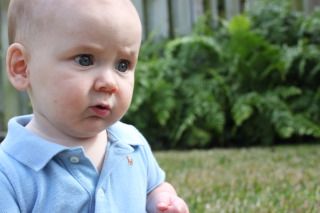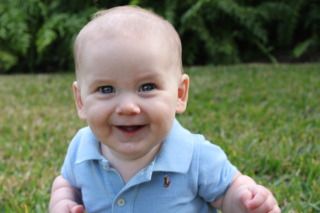 I did not realize how bald he is until I saw these!!