I love all things that etch my children's childhoods in my mind forever. These days are so, so awesome, but I am also functioning on little sleep (Levi, anytime you'd like to sleep longer than 3 hours at a time, I would be so thankful)....so I know I will not remember it all. Hence why I blog :). I just printed off my blog (I do this yearly), and it is quite an investment....but it is so worth it.
I saw the "take with you" growth chart (that I think is a Pottery Barn knock off) on Pinterest and knew I had to make it! I love recording kids' heights, and the fact you can take it with you if you move sold me! I know so many people who have recorded heights in a spot, only to have to move one day and lose the record!
I am not very crafty, so I was happy it turned out. I love dark wood, so that's why I stained it dark....but it is actually too dark. You can see the heights, but it is hard to read. So from a distance, it just looks like a random board on my wall. Oh well!
The upclose shot. I freehanded it all: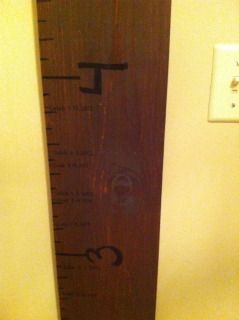 But you can see how it is not super easy to read. One day, I may redo it with lighter wood....but for now, it serves it's purpose :)
Before having Levi, I had canvas prints made of the 3 kids I did have. I knew I wanted to add his picture to the collection, but I had to wait until he could sit up....to be able to take his picture outside and coordinate the photos. Here is the end result: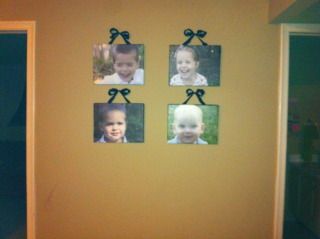 Levi's isn't as bright as the glare of the flash would make you believe. You may notice these are the same pictures used on my homepage! I am not sure if I will keep these forever, or update as they grow. But they're in our living room....and I love how it is tasteful decor that communicates how much we value our children. I actually mentioned to Brett I may move them to the homeschool room, and he was the one who said how he loved them being in the center of our home. How sweet :).
(The ties of the bows look better in person, but now that I see them, I may try to make them a little bit cuter).
I got these at artscow.com which is like super low prices for canvases. They are good quality, though!