Though my house is nowhere near where I want it to be, I wanted to capture it on film (or whatever term we use now that film is outdated).
Here is a photographic tour of my new abode:
This is the entrance to the house (a little dark, sorry):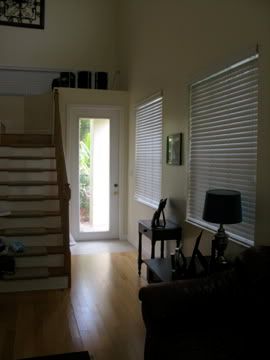 I am not a fan of the door. The huge window is a bit creepy at night.
View of living room from the stairs:
You can see our house is long and narrow.
The living room, up closer: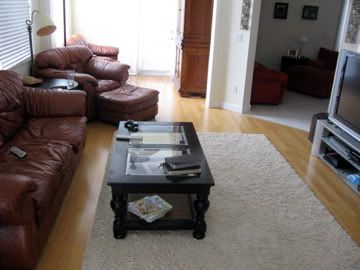 Our bedroom armoire would not fit up the stairs, so we put it in the "kids room" (at the back of the picture). They now have their own little room to watch cartoons in the morning. Their toys are in there, too.
Another view of the living room: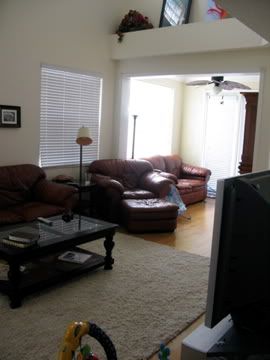 If you are looking at the living room, the dining room is to the right.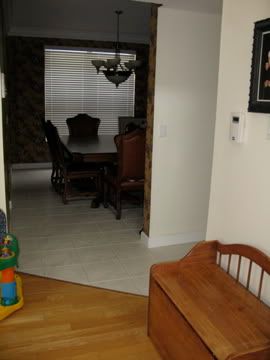 I do not like the wallpaper, but fortunately, it does match our furniture.
In the corner are things that were hanging in our basement that I have not found a home for. I do not want them to get messed up in the garage, so for now, they're an eyesore.
If you go to the left, you enter the kitchen. I love this kitchen!! I have always wanted white cabinets, so I'm pretty excited. Plus, the cabinets are four shelves high, so there is lots of extra space. I have to use a stool to reach it, so I only put rarely used items there!
A view from the other side:
More kitchen:
Our kitchen table from IKEA. Even though it's not super high quality, I love the bench seat. And it matches the kitchen, which is great.
We have a living room in our kitchen. A little weird, but it was nice we did not have to get rid of our basement furniture!!
All of our bedrooms are upstairs.
Chloe's is on the front of the house. I still have some things in mind for her room, but I love it so far. It fits her so well. Her room is princess themed. Our hope for Chloe is that she realizes that she is a daughter of the King, therefore making her a princess. Though some would argue this will make her spoiled, I would rather she be confident and secure in who God has made her to be than settle for a sub-par life. Plus, with siblings and us not indulging her every whim, she'll be fine. And honestly if there is anything Chloe lacks, it is not confidence :). Anyway, I did not mean to get on that tangent. Obviously I have an opinion on the matter...LOL!
So this is the entrance to my girlie's room: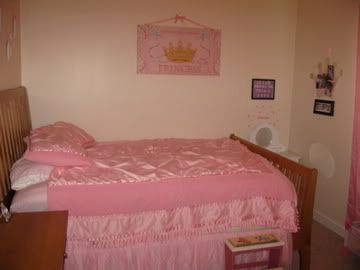 I just found the picture on the wall. I love it. It says "Once Upon A Time, There Was A Princess" and "the fairest one of them all".
Chloe has a really cute cd player that matches her room, but it was in my room when this was taken:
Princess Peach watching me take photos:
The kids' bathroom separates their rooms: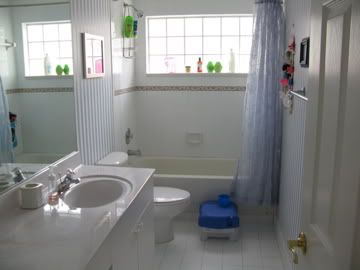 All of our bathrooms have wallpapered ceilings (and walls), which I have never seen...even though I'd prefer not to have wallpaper, I actually like it.
Caleb and Luke's room....aka, where my orderliness has gone to die. To help Caleb adjust to our new house, we surprised him with Star Wars decor. He has wanted it for so long, but his room theme is/was outdoor. It is juvenile yet classy. Except he's never loved it. With introducing Luke into the room, as well, I figured there was no real theme anymore. I did not want to get new bedding (nor would I have bought Star Wars bedding anyway, as that would have been overkill), so I just left it. Caleb decorated the room himself.
As you enter the room, Caleb's bed is on the left, and Luke's crib at the back of the room:
Pookers' crib (funny story: We did not have a nickname for Luke that has stuck, besides Lukey. So one day, Brett was being funny and started calling him Pookers. I was not a fan AT ALL, but somehow it has stuck. I even call him Pookers now, as do the other kids.)
Caleb's bed: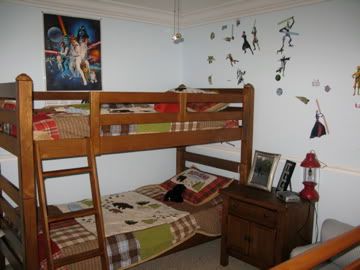 He trades off between sleeping on the top or bottom.
One night, one by one, he moved all of his decals from the lower part of the wall to the upper wall. It must have taken forever, but he is so methodical...so I am sure he enjoyed himself.
The boys' closet:
Caleb gets Sports Illustrated for Kids. This poster was in it, and Caleb wanted to hang it on the wall. He did it himself.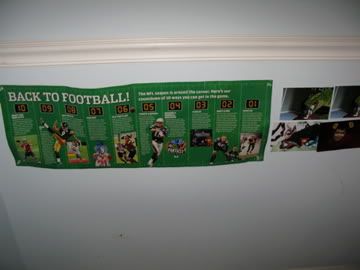 If you walk down the hall, you come to our room. Please beware that we have three closets, all of which has mirrored doors. Very popular in Florida but definitely overkill.
We had to put some of our basement decor/furniture in our room. I am not a big fan of having business-y stuff in our room, but when there are no basements, we have no choice!
Our office is off of our room. Though the placement is a bit odd, we really enjoy having a separate office.
This is our bathroom, which is to the right when you come in our room. Our old house did not have a door on the bathroom (which I never liked), and the shower was in the middle (therefore having total exposure). So I like this bathroom a lot better!! The shower is awesome. It has 5 heads total, and it's very refreshing! I love my bath, too! Bathrooms are notoriously small in south Florida, so I am SO thankful for our big bathrooms. Ever since I was a kid, I have wanted a vanity...so I really like having one. Chloe loves it, too. She does her hair and make-up a lot.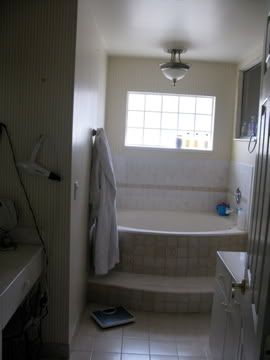 There you have it....a photographic tour of our home. Like I said, it's not complete (and since it's a rental, I probably will never have it just how I want it...especially since we will not be painting).