I spent way too much time designing my Christmas card this year (there are so many cute designs that I could not decide which to use), but I am happy with the result. I had a great gift certificate for awesome cards from
Shutterfly
, so I wanted to take advantage of the cuteness!! My sweet sister helped me tremendously (thanks, May May!!).
I love receiving Christmas cards from friends and family! In a world of emails and texting, I love this time of year when our mailbox is full of precious Christmas cards.
I know I am spoiling this a bit for those who will receive it, but it is for a good reason!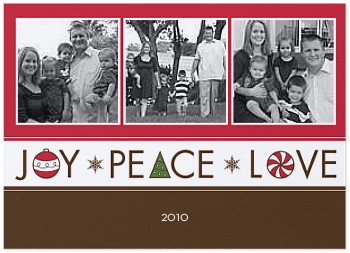 Peppermint Peace Christmas 5x7 folded card