For our 6th anniversary, Brett and I had the wonderful privilege of going on a Royal Caribbean cruise to the Bahamas. We stopped in Nassau and CocoCay (RC's private island).
Our vacation was wonderfully refreshing. While we've gone to weddings and conferences without kids through the years, we've not taken a true vacation since our honeymoon. Three babies in five years will do that to you! (Our staycation was like a vacation, but to me, a true vacation includes a tropical climate!).
Leaving Miami
The Miami Skyline
We laughed a lot! This past year has been a tough one (lots of sickness, relocating, new job, starting over, etc), so it was a great time to get away and enjoy one another!
The first night at dinner, we were laughing so hard that people around us were staring. The dinner tables on cruise ships are awkwardly close, so it is hard not to notice. The reason we could not stop laughing is because they were playing the Titanic movie soundtrack as background noise (the instrumental version). Of all the music in the world, they pick that?? It definitely entertained us!
Our first stop was in Nassau.
We went to a secluded island called Blackbeard's Cay. We rode a boat over and just laid on the beach for a few hours. It was glorious!!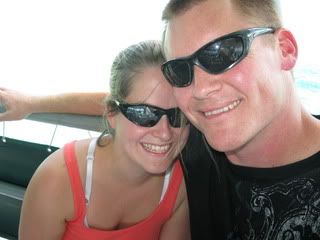 For dinner the second night, we thought it was the formal night. We dressed in our formal clothes. Then, when we got to the elevator, everyone was casual. We went back to check our daily itinerary, and it said it was casual night. So we changed. When we got to dinner, it actually was the formal night. It was a bit frustrating, because our formal clothes were so cute and it was awkward to be underdressed! But, it made for a good laugh!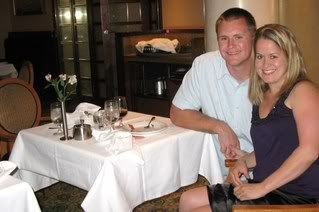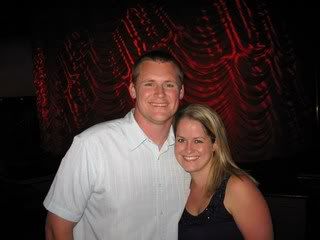 Our anniversary love from our stateroom attendant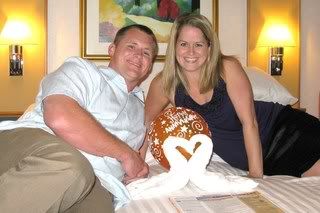 On the second day, we docked at CocoCay. We laid on the beach for awhile then went on a waverunner tour. We had an absolute blast! Brett drove, and I rode. I don't have a picture of the waverunner tour, but it was so fun!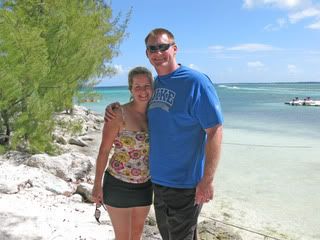 In the duty free shop on board, we bought each other watches to celebrate! I've been wanting a new one for awhile, so this was a good opportunity. The cost were the same as a department store but without tax and kids in the stoller!
The ironic part is that we never knew what time it was on the cruise!! How fitting to purchase watches the last day!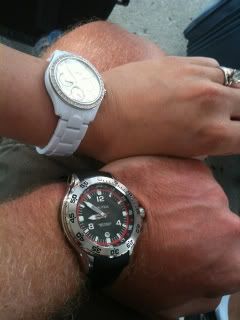 When Chloe saw me once we returned home, before saying anything else, she said, "Mommy, I love your watch!"
Our 3 day cruise was probably the best vacation I've ever been on! So fun and refreshing!!