Do you ever meet someone in life that is everything you're not....and you just want to somehow transport that person's gifts/personality into yourself?? That is my friend, Alison. Alison and I met in college at Florida State. We went to the same church and we were in the same college major. Alison has a gentle and quiet spirit yet is so confident and kind. She doesn't talk incessantly, but when she does, her words carry weight. I would love to be more like that! She honors God in her life, and she brings peace and life to others.
Not only is she all of these things, but she is amazingly creative!! Recently, she turned a dream into a reality by opening her Etsy store!!
Alison Sweet
is your place to find up-cycled, eco-conscious accessories.
I mean, come on, how cute are these accessories....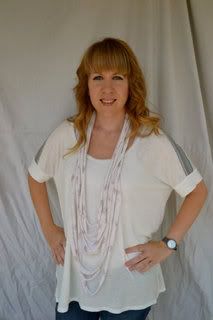 All items are made with donated and found cotton/jersey materials. Super soft and lightweight (which I love because heavy items get on my nerves!)....perfect to keep you cool in the summer and warm in the winter!!
Not only does she have a variety of items in her
Etsy store
(which change regularly, so if you like something, order fast!), Alison also loves custom orders. She can turn your old t-shirts into something beautiful.
I have good news!! Now thru December 22, if you use the code FALL15, you will get 15% off your entire order!! Everyone loves a good sale, and buying from Alison Sweet, you can feel good about buying from a quality, American company. Think Christmas presents!
If you could like to know more about Alison Sweet, you can check her out.....
Enjoy shopping and supporting a wonderful person!!