My sweet Pookers turned 2 a week ago. He is such an awesome kid. I am so thankful for the joy and fun he brings our family. Luke is very physical....he climbs everything, wrestles Caleb and Daddy, and isn't afraid of anything. His fearlessness is nerve wrecking, at times, because he will try anything! But it is also hilarious to see what he will dream up.
Luke keeps up so well with his older siblings, and they adore him immensely. It is precious. He mimics words we say, and his vocabulary is expanding quickly. He probably has 10-15 words, but he will repeat way more than that.
Our third born is a light in our family. He is so sweet...he is such a snuggler and loves everyone. His tenderness is infectious: even people who aren't "kid people" can't help but pick him up when he walks over to them with his arms raised. I secretly think he knows who likes kids the least in a room and will ask them to hold him :).
I cannot wait to see Luke's personality unfold. He loves to play with balls. He can spot a ball from a mile away! He also loves to punch people and things....so maybe he's a future football player?? Hahaha!
Luke is a persistent little guy. He knows exactly what he wants, and he will cry and scream until he gets what he wants (it is usually not behavioral things but rather a specific cup, snack, t-shirt, etc). He likes to push the boundaries, but when I correct him, he usually obeys pretty quickly.
Each of my children contributes something wonderful to our family, and I love who little Lukey is. He is a wonderful, fun, amazing little boy. I am so thankful for his sweetness!
The following are photos from Luke's birthday party!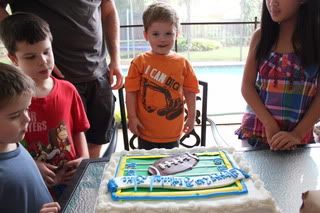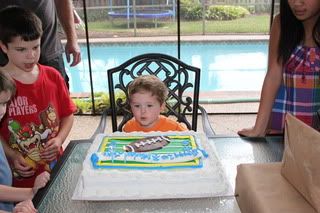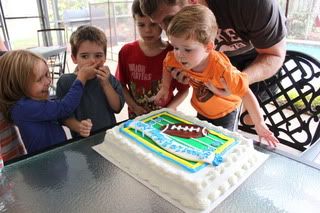 He actually said, "Mama, cheese", so I had to take this picture, per his request :)