I love Halloween! I know some Christians do not celebrated, however, I have chosen to adopt
my friend's
stand on it by choosing to celebrate life (party!!) and rejoice in the day that the Lord has made. Every day is His day, and on Halloween, we honor Him by dressing up, celebrating with friends, and enjoying the sweet goodness of candy :).
Additionally (my belief) is that children are only once. They only get one shot at the innocence, joy, imaginativeness that childhood offers. It's not that the world is some scary, awful reality....but...childhood is so, so precious.
Anyway, I love Halloween. This year was, by far, my most favorite Halloween to date. The weather was GORGEOUS. A teensy bit chilly but still very nice. We went trick or treating with friends...got an awesome stash of candy...and came back to our house for a delicious and fun dinner. While eating, a bunch of Brett's football guys stopped by. I cannot say it enough how much I love having people in our home....I especially enjoy his football guys (and all youth) because they're just so carefree and fun.
It truly was such a perfect night. The adults ate dinner and chatted the night away while the kids ate copious amounts of candy. I am so thankful for such sweet friends.
This year, we had a hot dog (Luke), ninja (Caleb), shark (Levi), and fairy-turned-princess (Chloe):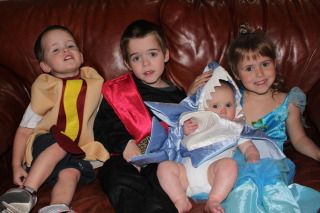 This made me laugh of Luke. He is in SUCH a funny stage where he has learned how to make us laugh...it's awesome!
The shark (all my boys have been the shark....how sweet!):
My cutie husband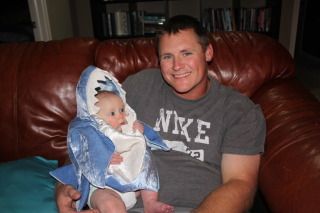 The ninja and the famous crane: