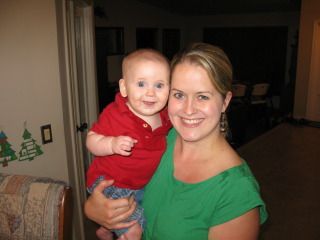 Can we just discuss how much I love my Beevers (Levi)?? Luke used to call Levi, "Bevi"....so we started calling him Beevers or the Beve.
This kid is freaking amazing (imagine that, me bragging about my kids). He is such a great baby. He just goes with the flow. He usually only ever cries if he's hungry (and then he can wail) or if he's tired of doing what he's doing. Levi is so sweet and snuggly. He isn't sleeping well through the night (the air conditioner wakes him up when it turns on, but I can't do anything about it...it's right by his room). But he takes great naps and eats quickly in the night :). He takes a pacifier (I see that being hard to break in the future because he loves it), but as with the other 3, he won't take a bottle.
I caught this picture a moment too late, as Levi was making the same face as Brett. They're twins.
Levi started baby food this week and is doing great with it. He eats it well and hasn't disliked any of it so far.
I adore this sweet boy, and he is well loved by his siblings. They all fight over him; it's adorable. He laughs and laughs. His smile can light up a room. He is tough: Luke is a pretty aggressive older brother (sits on him, pulls on him, etc), and he doesn't seem to mind. I have mentioned before he is our biggest baby, so he will probably get the last laugh :). Of course, I try to stop Luke!!
I just love my boy, and I am so thankful for him!!!!
He turns 6 months this weekend. WHAT!!!!!!!!!!!