For Caleb's 7th birthday, he opted to go to Legoland with Brett (and his friend, Drew) instead of having a party.
It was definitely a great choice. He had an awesome time!! He even rode his first roller coaster. Drew is his best friend, and it was so fun for him to have an entire day with Dad, Drew, and Drew's dad.
The pictures are all on Brett's phone, so I will have to upload them from there.
I also need to do a birthday post for Caleb. He is such an awesome boy!! I am trying to catch up on pictures (I am so far behind on the blog), so the words will have to wait a few days.
At CC, there are 4 people in Caleb's class whose birthdays are near his, so we did a joint cake to celebrate!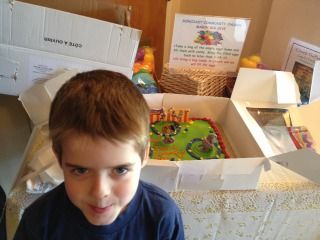 We also celebrated as a family, so Caleb got a lot of birthday love :).
My mom asked what he wanted for his birthday. I sent her a list of Legos he wanted so she could pick from them. She sent the ENTIRE list (not what I expected but definitely not surprised).
I order a lot online, so the FedEx guy comes a lot....usually with boring stuff. Not this day!! Caleb could not believe it. This was all for him!
Such a fun birthday for my big boy!!