As a young girl, I vividly remember my mom and I shopping at Radiant Bookstore during Christmastime, drawn in to the beautiful Department 56 display.
Even then, the beautiful ceramic, lighted buildings seemed so nostalgic and warm. A perfect representation of the holiday season. (I was, and still am, nerdy, ok?!)
My mom purchased several pieces and over the next few years added to the collection. I am fundamentally opposed to collecting anything, yet I have always loved these.
My parents always travel during Christmas and decorate once they're at their vacation destination, so I asked my mom if I could have her Dept. 56 collection. To which she happily obliged. (I think it was happily. Maybe I guilted her into it? Either way, it's now in my possession.)
So if you're tracking with me, this collection is important to me....is valuable (both in original cost and age)....is a sweet childhood memory....and is extremely breakable.
Which is why it has stayed in my attic as Christmases have come and gone.
But that all changed this year.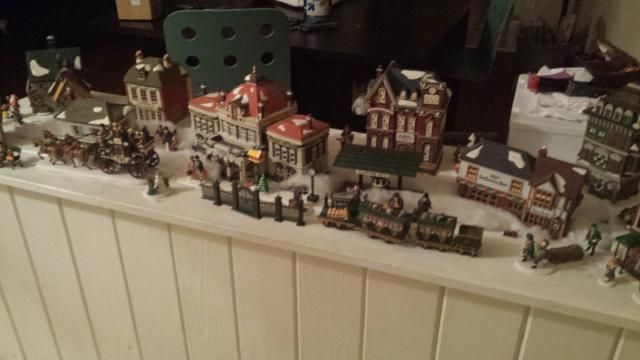 The pictures do not do this justice.
And my kids' participation in setting it up doesn't really help.
Trust me. It's precious.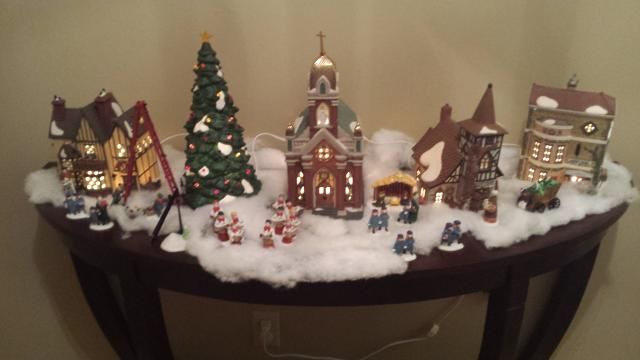 You see, this Fall was difficult. Losing two friends (in their 30s) to cancer in one week is an unexplainable loss. Though it is a different blog for a different day (one I will probably never write), it was really hard. And I know it's infinitely harder for those who were closest to them. My mind can't even begin to process any of it.
But those losses changed me.
And without making light of a terrible tragedy, their passings were a very real reminder of how precious and short life is.
There are just no guarantees in life.
So this year, when we were getting our Christmas decorations out of the attic and my kids begged to set up the "houses with all of the people", I happily obliged.
Their excitement to set up the villages exceeded my joy when my mom first purchased them. All four of my kids loved arranging the houses and the people. And there are few things cooler in life than when your kids love what you loved.
All of these years I've hesitated to display my good decorations because of the high probability of breakage.
But this year has been a stark realization that life is just too freaking short.
Stuff breaks. Pieces get lost. Kids will be kids. But the good stuff shouldn't stay in the attic waiting for the day when it's safe.
Especially because if I thought toddlers were destructive, boys with swords, guns, and balls are infinitely more so. There will never be a perfect time to get out the good stuff.
And if this applies to my cute little Department 56 collection, how much more does it apply to all of life??
Life is just too short for mediocre, wait-to-use-the-good-stuff living.
I don't know where this season finds you. Maybe dreams have died in your heart. Maybe a relationship or two is strained (or completely broken). Maybe you're doing ok but waiting for your kids to get a little older to enjoy your husband again.
Maybe it's time to pull out the good stuff (metaphorically speaking)
Take a step, even if it's a small step, towards pursuing your wildest dream. You never know where it may lead.
Call the person who's hurt you and possibly (hopefully) re-open the lines of communication. Humility can go a long way, even if it's not your fault.
Schedule a super fun date for you and your husband.
(It doesn't have to be extravagant: Brett and I played darts last week, and I had no idea he was so good at them! It was a cheap date but such a blast.)
Not all days will be memorable, for sure.
But that doesn't mean you can't swing for the fences once in awhile to make the dailyness of life a little less ordinary.
And a few days off at Christmas time may be the perfect opportunity to do that!
Have a very Merry Christmas, friends!